Loon Network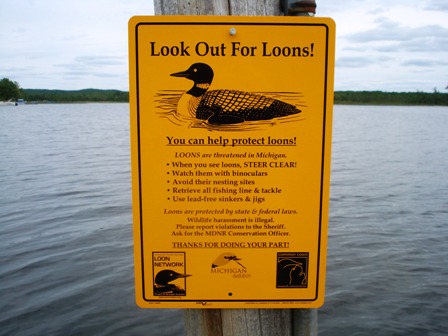 Elk River Watershed Loon Network
P.O. Box 117
Alden, MI 49612
LOOK OUT FOR LOONS!
Loon chicks like the pair in the North Arm of Lake Bellaire are beginning to hatch throughout the Elk River Chain of Lakes Watershed. Chicks will be taking their first diving lessons from their parents during the month of June and into early July.
That's why volunteers with the Loon Network were busy this week posting advisory signs at marinas, gas docks, boat ramps and DNR access sites. The signs ask boaters to steer clear of loons they encounter on area lakes.
Loons are a threatened species in Michigan and protected by state and federal law. Common loon numbers have been decreasing in the lower 48 states of the U.S. under the pressures of development along the shore and boat traffic on lakes.
Loons have only one or two chicks and may not reproduce every year. That is why the loss of even a single chick has a big influence on the numbers of loons we enjoy on our lakes.
People using the lakes should keep their distance from loon nesting sites and artificial nesting islands which are often marked by Loon Nesting Area buoys. They should also slow down when they see adults swimming with their chicks. Adult loons are devoted to their chicks and often dive to lure boaters away from the chick. Fishermen should avoid using lead tackle which can be ingested by the birds and is a major cause of loon mortality. Retrieving all fishing line and tackle really helps.
The Loon Network, a project of Michigan Audubon, is a group of volunteers committed to using a watershed approach to protect threatened loons. The Network focuses on habitat protection, research and monitoring. Common Coast Research and Conservation collaborates with the Network to band loons in the watershed.
Through the efforts of volunteers and lake associations, loon numbers in our watershed are recovering. If you are interested in learning more about loons in the Elk River Chain of Lakes Watershed, visit the Loon Network online. And remember, LOOK OUT FOR LOONS.