Otis Farm Bird Sanctuary
Otis Sanctuary is adjacent to the Globally Important Bird Area, Barry State Game Area, which recognizes critical habitat for Cerulean Warblers. The 128 acre bird sanctuary hosts rolling fields, mature forest, expansive marshland, a trout stream, kettle hole marshes, and several springs.
Featured species: Pileated Woodpecker, Red-headed Woodpecker, Grasshopper Sparrow, Henslow's Sparrows, Warblers, Bald Eagle, Osprey, Sandhill Crane
Amenities: Parking, walking trail, canoe launch, seasonal restroom, cabin rental, weekend naturalists, picnic tables
Otis Family Tree and Geneology
Memories of Glass Creek Part 2
Otis Farm Bird Sanctuary is located at: 3560 Havens Road, Hastings, Michigan.
For more information contact:
Michigan Audubon
Office: 517-641-4277
Otis Farm Bird Sanctuary: 269-275-3628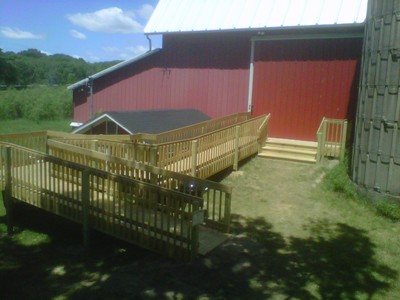 Otis Barn Access Ramp