Bernard W. Baker Sanctuary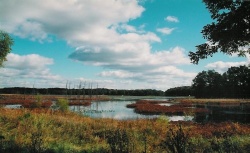 Baker Sanctuary is North America's first bird sanctuary dedicated to the preservation of a crane species, the Sandhill Crane. At 898 acres and the second largest of Michigan Audubon's sanctuaries, it is a refuge for nesting and migrating Sandhill Cranes. The area is dominated by the 200-acre Big Marsh Lake, a restored wetland flooding. More than 200 species of birds and dozens of species of mammals have been recorded here. There are two groomed trails in the sanctuary.
The Meadow and Marshland Trail, accessible from 15 Mile Road between T Drive North and Q Drive North, was established in the spring of 1996 for hiking, cross country skiing, and nature observation. In 1998 a controlled burn was conducted as part of a prairie restoration project.
The Meadow and Marshland Trail is a mowed trail of easy to moderate difficulty. It twists and turns for 2 miles across rich rolling Michigan meadows and marshland edges while taking advantage of the ample shade provided by many trees along the trail. Throughout the spring and summer, an abundance of wildflowers and the fauna they attract can easily be found. At numerous points along the trail circular "exploritoriums" provide convenient vistas in a shady resting spot that are fun areas to explore. Deer, turkey, pheasant, grouse, fox, coyote, hawks, frogs, turtles, butterflies, bluebirds and other species frequent the area surrounding the trail.
Habitats at Baker Sanctuary include ponds, streams, cattail marsh, tamarack bog, oak opening, floodplain forest, wet meadow, and ongoing prairie and wetland restoration projects. Notable birds include Bald Eagle, Osprey, Northern Harrier, migrating waterfowl, and diverse warblers.
The Iva E. Doty Native Wildflower Trail, near the lodge is the head of the Doty Native Wildflower Trail. This mile-long trail, with an extensive boardwalk, winds through a wet meadow, past a quiet pond and woodland creek and along the edge of a flood plain forest. A wide variety of flowering plants can be identified with the help of a self-guiding brochure, available at the Doty Shelter near the head of the trail. This trail was built and is maintained by a separate endowment established by Iva E. Doty.
Amenities: Parking. Maintained Trails. No Restrooms. On-site Manager. Geocache Site.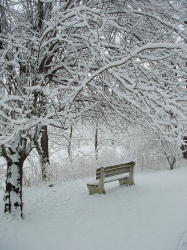 Meadow Marsh Trail Map (PDF)
For more information contact:
Jolene Flynn, Resident Manager
21145 Fifteen Mile Road
Bellevue, MI, 49021
269.223.9984